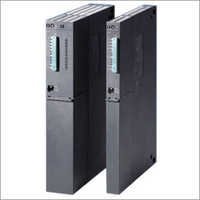 Programmable Logic Controller
Product Description
Programmable Logic Controller
Backed with rich experience and knowledge, we are considered to be one of the professional suppliers of Programmable Logic Controller . All these programmable logic controllers are widely used for multiple input and output arrangements and ensure immunity to electrical noise and extended temperature ranges. Based on the requirement of application, we make available this Programmable Logic Controller to our clients in different specifications. We make use of only certified quality of materials for manufacturing our entire assortment.
Programmable Logic Controllers (PLCs) are microprocessor-based devices which are used for controlling industrial processes or machines like amusement rides, or light fixtures machinery on factory assembly lines. They provide advanced functions, including analog monitoring, control and high speed motion control as well as share data over communication networks.
Siemens make Programmable Logic Controller(PLC)
Humen Machine Interface System
Simatic S7-200, 300,400
Simatic S7-1200
Simatic S7
Features:
PLC has been designed for multiple inputs and outputs arrangements
Immunity to electrical noise
Resistance to vibration and impact
Programs to control machine operation are stored in non-volatile memory
PLC is an example of real time system
PLC system is modular
PLC has the ability to change and replicate the operation or process while collecting vital information
Ladder Logic is the most commonly used PLC programming language
PLCs are well adapted to a range of automation tasks
Unisys Automation is a best dealer of Programmable Logic Controllers, Siemens make Programmable Logic Controllers.