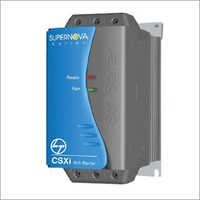 Motor Soft Starter
Product Description
Motor Soft Starter
Our company is renowned in this industry for manufacturing Motor Soft Starter. These drives provide hassle free acceleration of induction motor along with current limit facility. High quality of materials is used in the construction of these starter drives thus making the drives more durable as compared to other brands available in market. The offered Motor Soft Starter are perfect for soft starting of motors. At our end, we make sure that our clients get the supreme quality range of starter drives at competitive prices.
A motor soft starter is a device which is used with AC electric motors to reduce temporary torque and load in the powertrain of the motor during start up. This reduces the mechanical stress on the motor and shaft. Motor soft starters can consist of electrical or mechanical devices, or a combination of both. Electrical soft starters can be any control system that reduces the torque by temporarily reducing the voltage or current input, or a device that temporarily alters how the motor is connected in the electric circuit. Mechanical soft starters include clutches and several types of couplings using a fluid, magnetic forces, or steel shot to transmit torque, similar to other forms of torque limiter.
Features:
Three-phase motor with low to high power rating
3 conductors to the motor
Variable starting torque
No current peak
No torque peaks
Negligible voltage dip
One simple switching device
Optional: Guided soft stop, protective functions, etc.
Zero maintenance
Compared to soft starters, contactor solutions, sometimes also referred as soft starting devices
Unisys Automation is a best dealer of Larsen & Toubro Make Soft Starters.