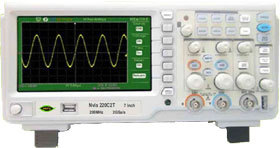 Product Description
Oscilloscope
A Digital Oscilloscope which is informally known as scope, CRO (cathode ray oscilloscope) an electronic test instrument that allows to observe constantly varying voltage signal. In oscilloscope many types of signals can be converted to voltages and displayed.
Features:
1 Million point deep memory
Trigger modes: edge, pulse width, slope, video, pattern, continuous time, and alternate
Bandwidth 200/300MHz
Compact Oscilloscope
7" Colour Display
FFT Function
2 GSa/s Sample Rate
Large no. of Auto Measurements (32 nos.)
Built in Multimath Function +, − x, FFT
Cursor Measurement : Auto, Manual, Track
Pass/Fail Function
USB Host/Device
1 Year Warranty
Used in the sciences, medicine, engineering, and telecommunications industry
Unisys Automation is a best dealer of Oscilloscope. Contact Us for enquiry!