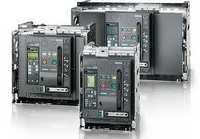 Air Circuit Breakers
Product Description
Air Circuit Breakers
Air Circuit Breakers are Versatile in use with 3 sizes. The 3WL air circuit breakers covers a power spectrum from of 630 A to 6,300 A, in either 3 or 4 pole design, they are suitable for using upto 1,150 V. They fulfill the demands operation and monitoring of network processes when electronic control systems are used. The quality of series is setting standards worldwide.
3WL air circuit breakers have integrated communication capability & are very flexible applicability. All models are characterized by withdrawable version– in fixed-mounted as well as identical design. Its the world's smallest circuit breaker of its class.
Advantages:
Flexible and global applicability for temperatures up to 70 °C;
No derating up to 55 °C
Easy planning, assembly and retrofitting through modular design with only 3 sizes
Full communication capability via PROFIBUS-DP or Modbus
Smallest circuit breaker in the market
RoHS-compliant
Applications:
Used in electrical system as incoming-feeder, coupler, distribution and outgoing-feeder circuit breaker
Used for switching and protection of motors, generators, capacitors, transformers, cables and bus bars
Devices in AC version are available as circuit breaker and non-automatic circuit breaker.
Devices in DC version are available as non-automatic circuit breaker
Unisys Automation is a best dealer of Siemens Make Air Circuit Breaker.